Hey there!
Wow, the past few weeks have been a complete world-wind. I packed up my life and moved to Australia and three days into my move booked a spontaneous trip to Bali. The 15 degree weather in Melbourne was not cutting it for me.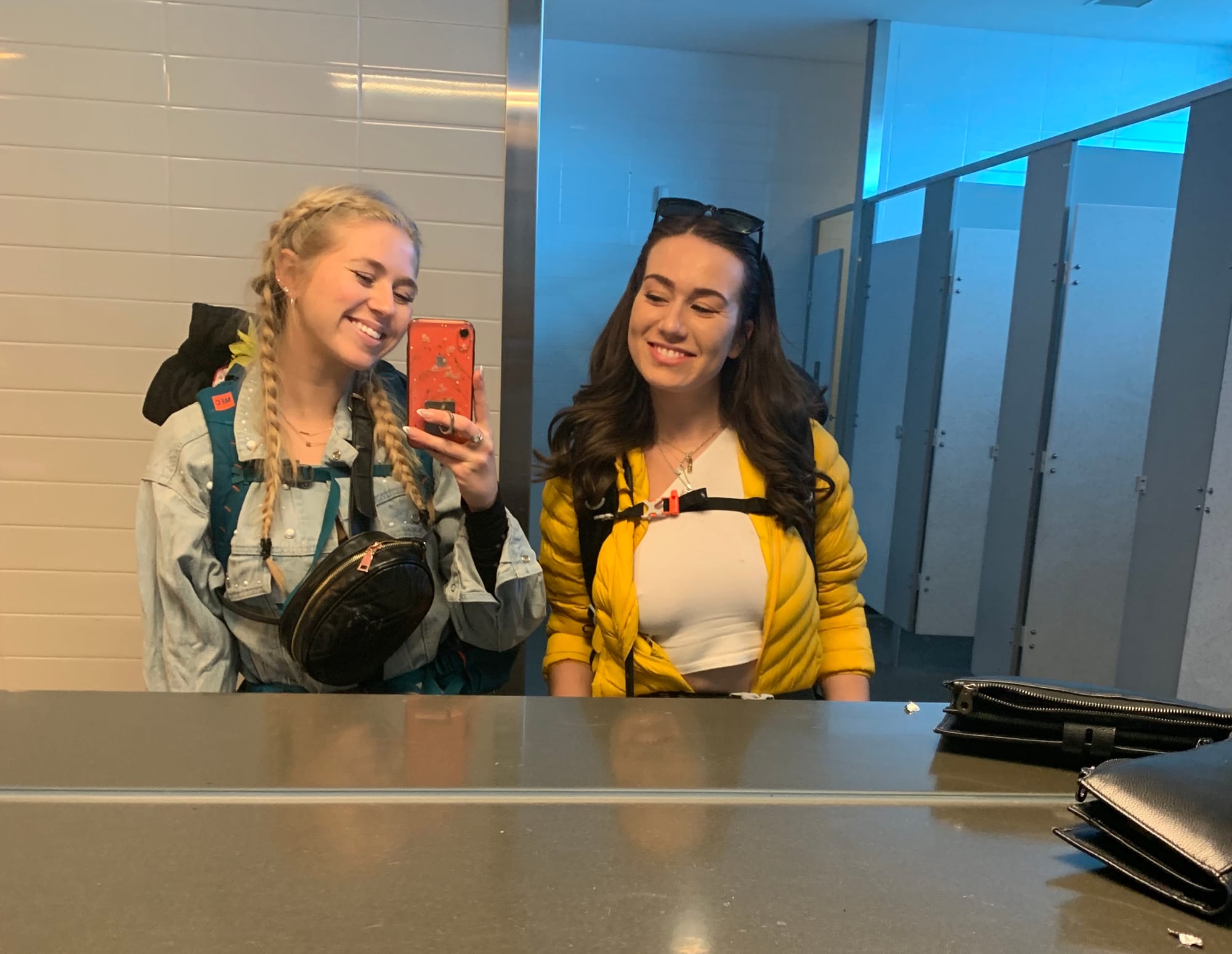 I am finally back in good old Melbs (weather currently low 20's... disappointing) and settling in, however am certainly missing Bali (and not just because of the 30 degree weather).
Bali was an absolute blast, check out my Instagram (@ellismaee) for an abundance of spam if you're curious as to what I got up to! A video will be coming shortly.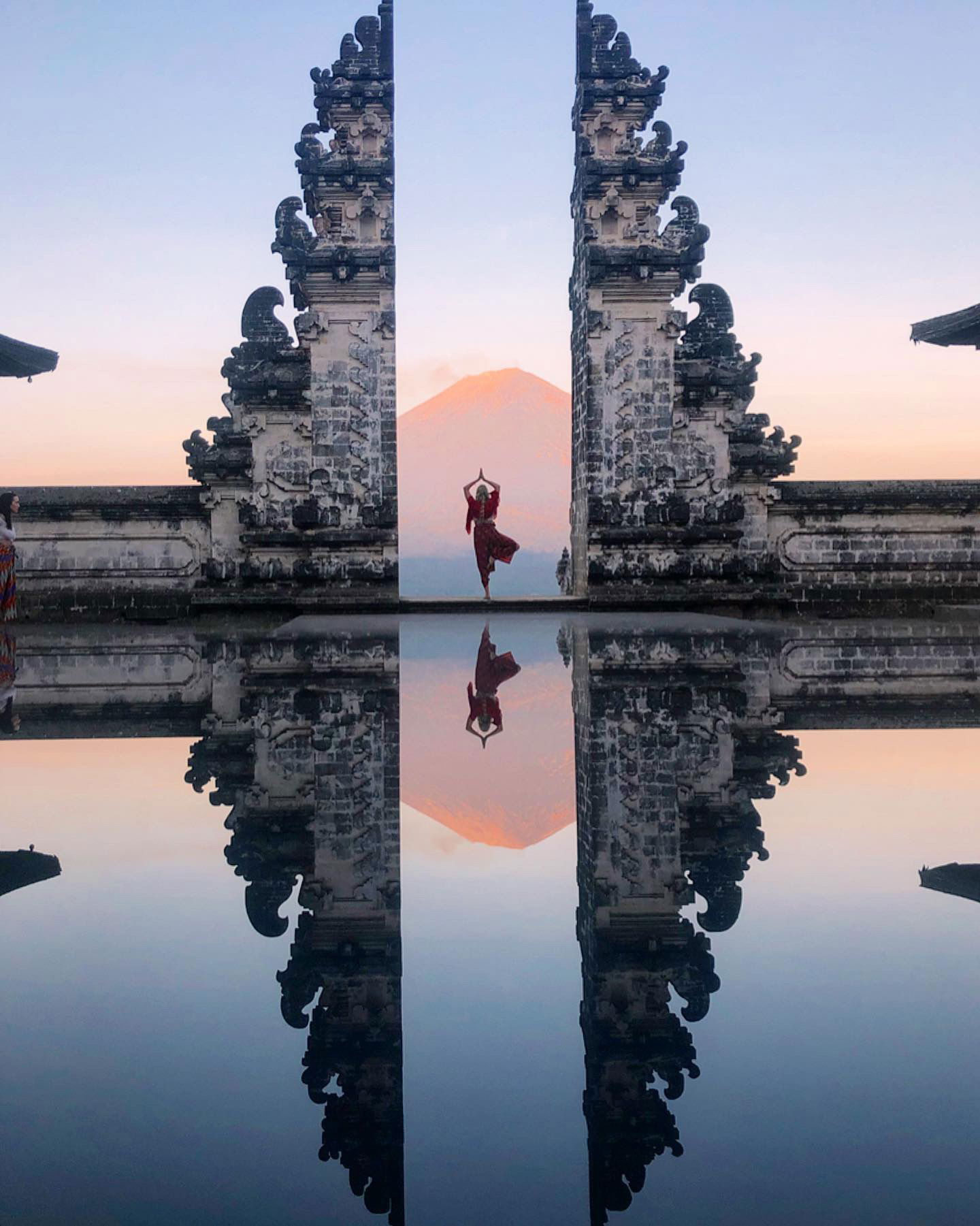 Gates of Heaven at the Lempuyang Temple
Anywho, enough rambling. Let's get down to the point of this entire article. I made it my mission while in Bali to find the best places to go out, day and night. If you know me, you'll know there's little I love more than dancing my butt off and if you're the same you'll definitely want to keep reading. If not, keep reading anyways because I'll be giving you a list of the best places to sit down and grab one (or 10) refreshing Bintangs (the signature beer of Bali).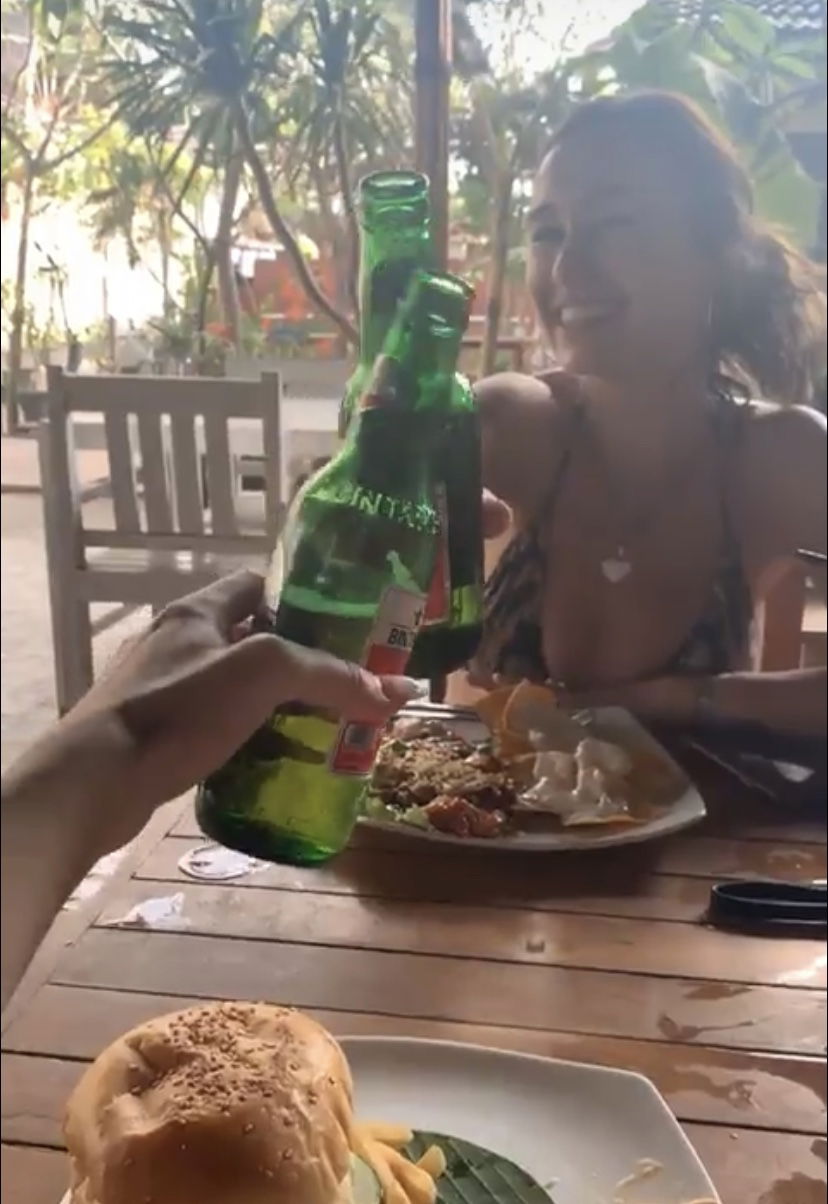 I started my Bali adventure in Seminyak. I stayed right outside of the town at Socialista Lifestyle Hostel. This was one my favourite hostels of the trip, such a great atmosphere and really clean, private rooms.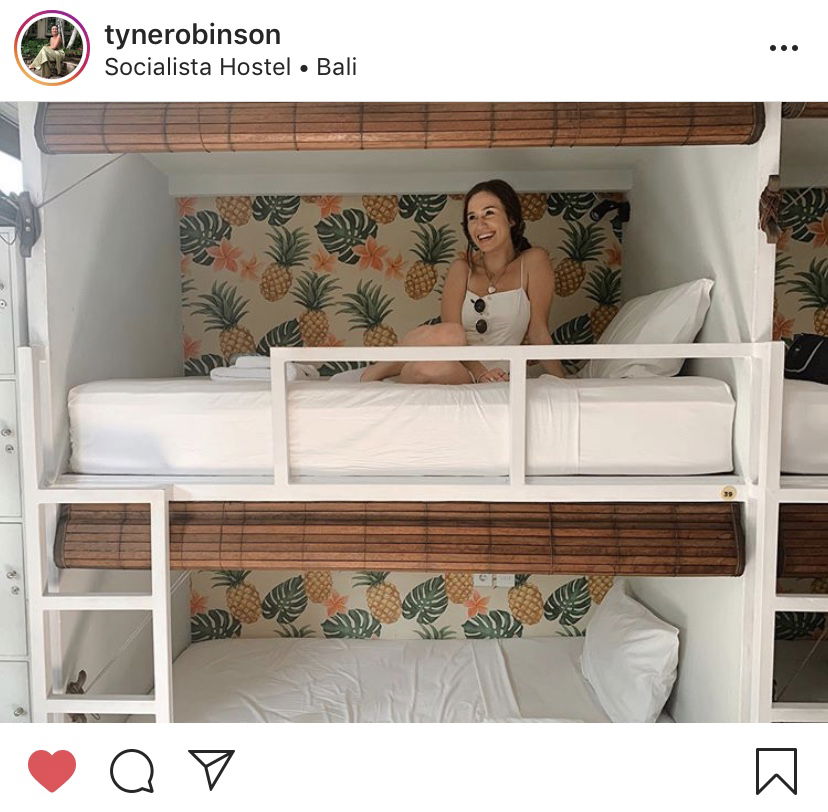 How cute are these dorms!
Seminyak is a really awesome location, it's the go-to for some of the best night clubs Bali has to offer. La Favela is one of the coolest clubs I have ever been to. There are (what seemed to be at the time) countless rooms and a mini forest in the middle. There are different genres of music in every room so you'll definitely find something you like. Gentlemen be warned, you won't be allowed in if you're wearing flip flops or a tank top! Go earlier than later to avoid the killer line and possibility of rejection.
If you don't get in and like hip-hop/ r&b/ top 40, the bar directly across the street, Los Gringos Mexican Tequileria, is super fun to dance in as well!
Seminyak also has a cute beach club called Tropicola that is known for its Tuesdays! If you have the chance, check out it. They offer 100,000IDR (roughly $10 CND) all you can drink for two hours in the early afternoon.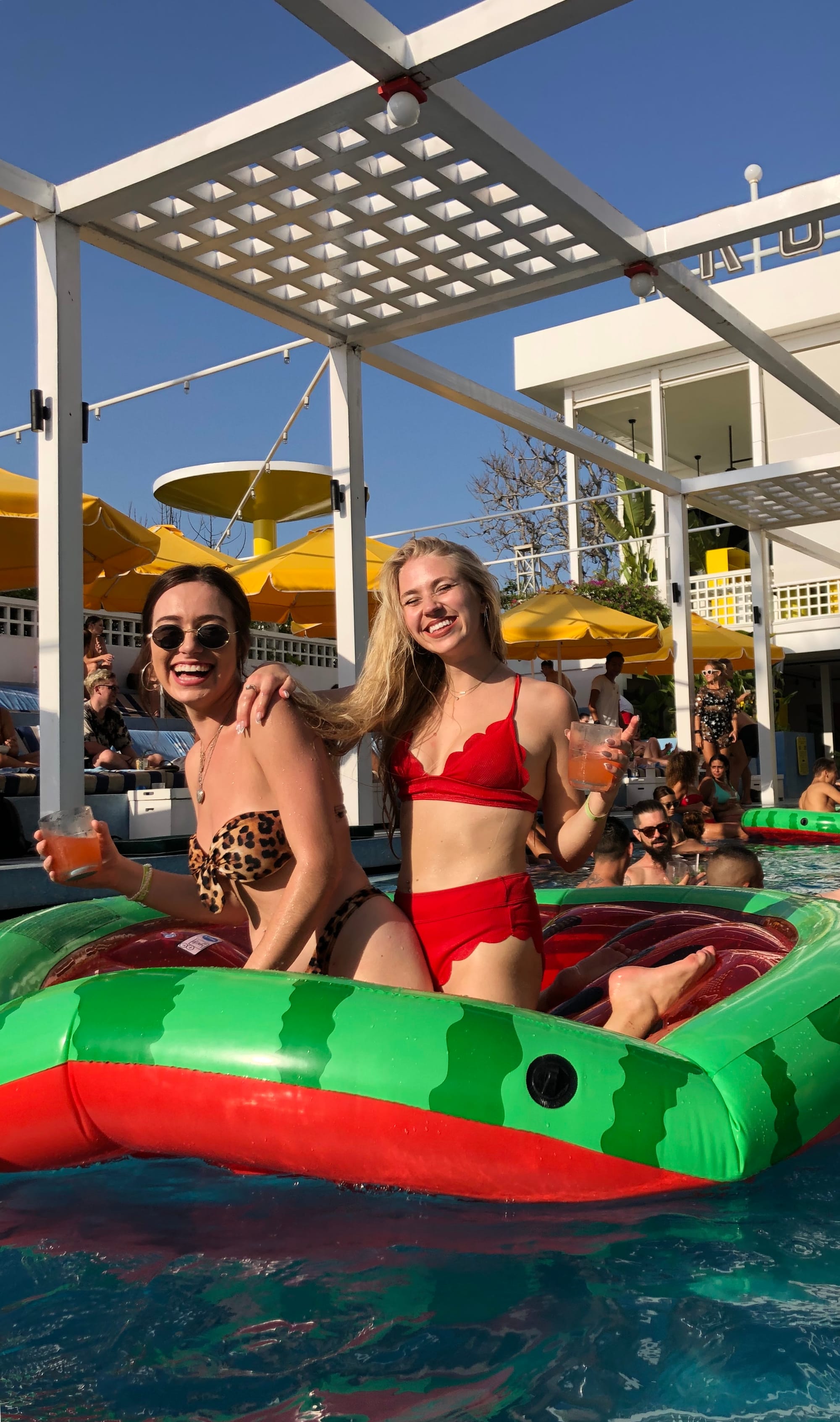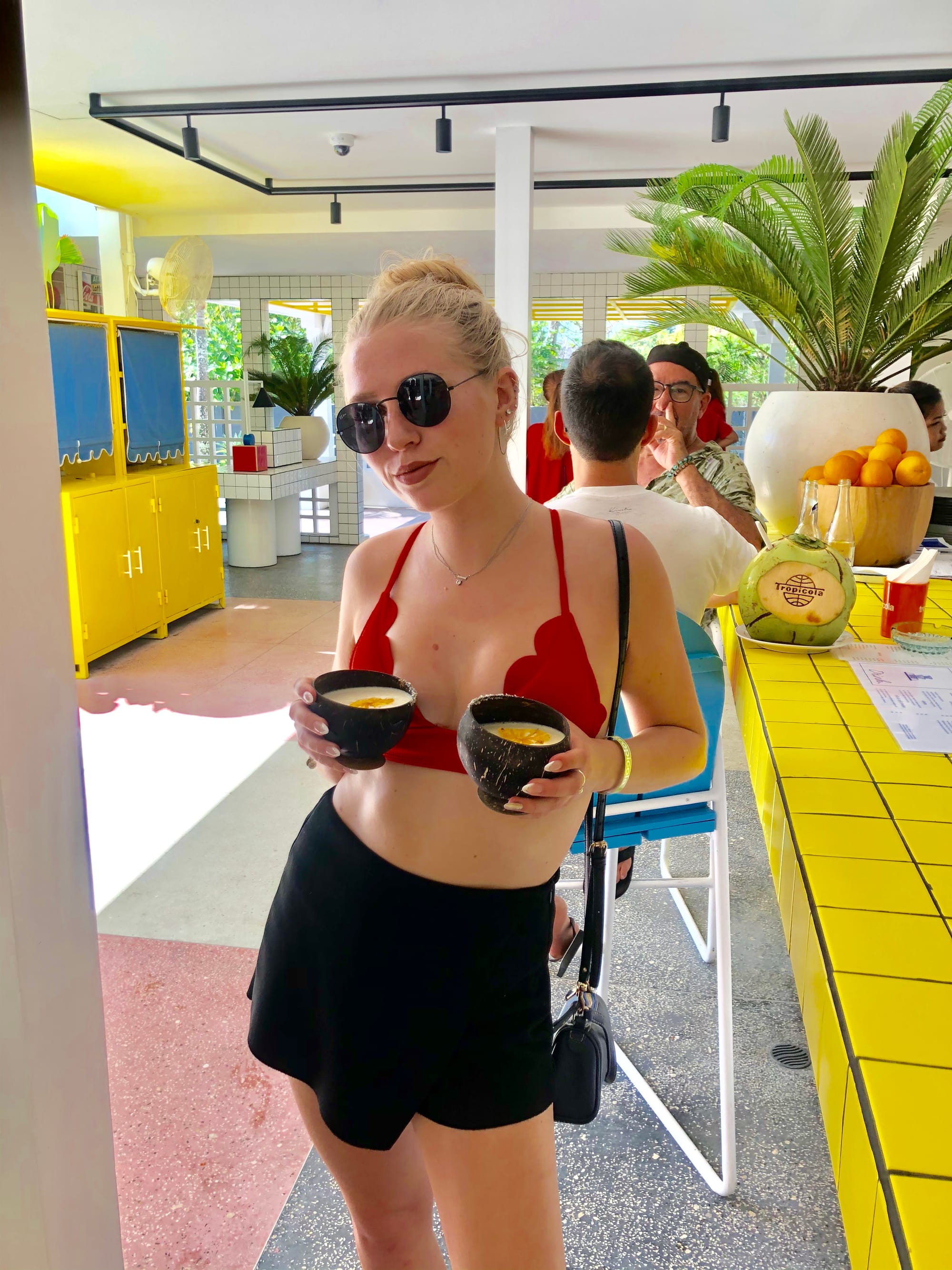 After Seminyak, I headed up to Changgu and stayed at the Changgu Castle. This hostel has a big pool and rooftop area where you can jump off into the pool.
I left my favourite skirt though (pictured above at Tropicola) and they weren't very helpful in getting it back to me so if you see if please let me know, I'm heartbroken.
Changgu has some of the best beach clubs on the island! If you are looking for more of a relaxed vibe, check out Potato Head.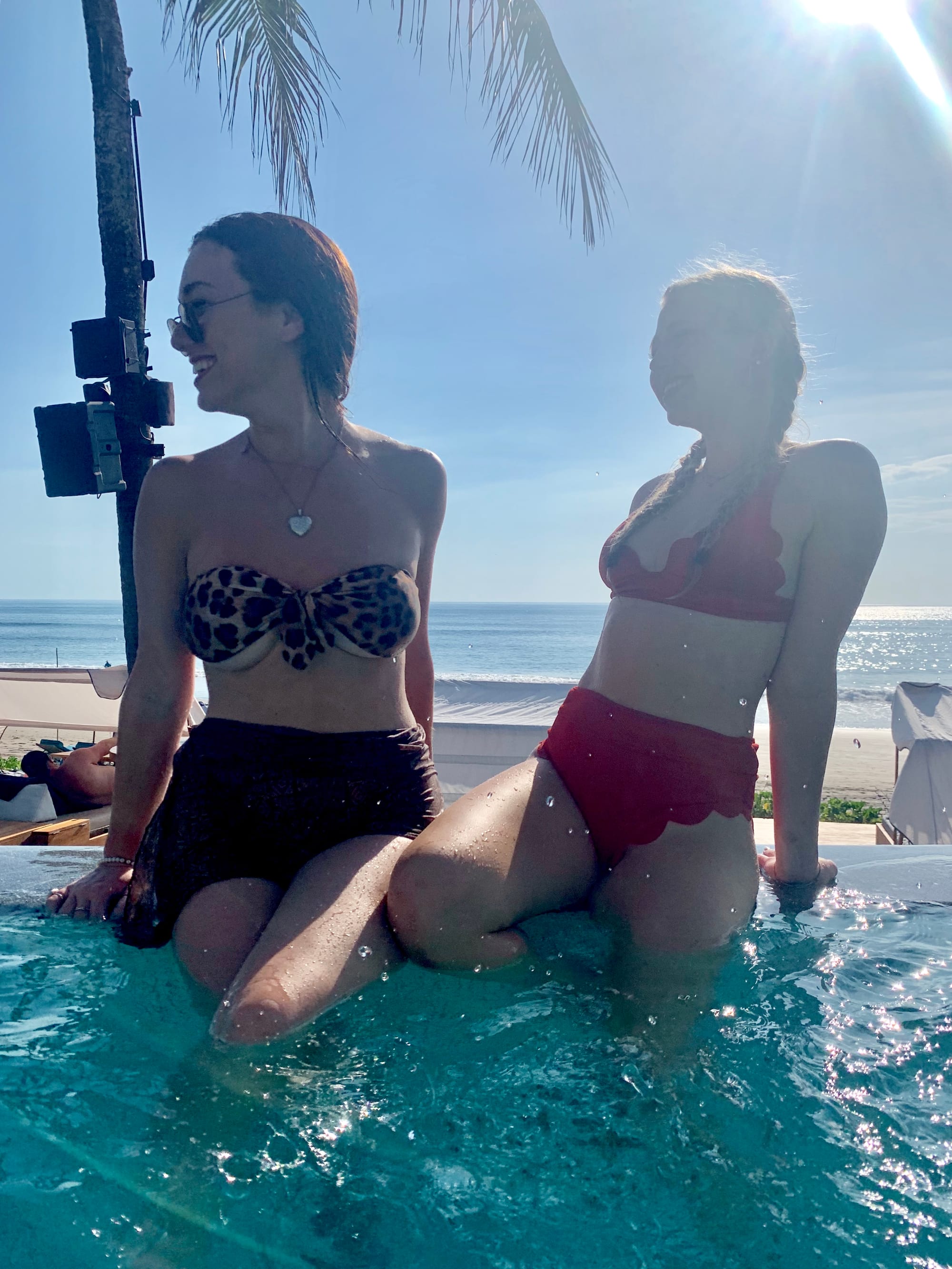 Potato Head
If you want a bigger, more upbeat version, head up the street to FINNS VIP Beach Club. I spent more time there than I'd like to admit.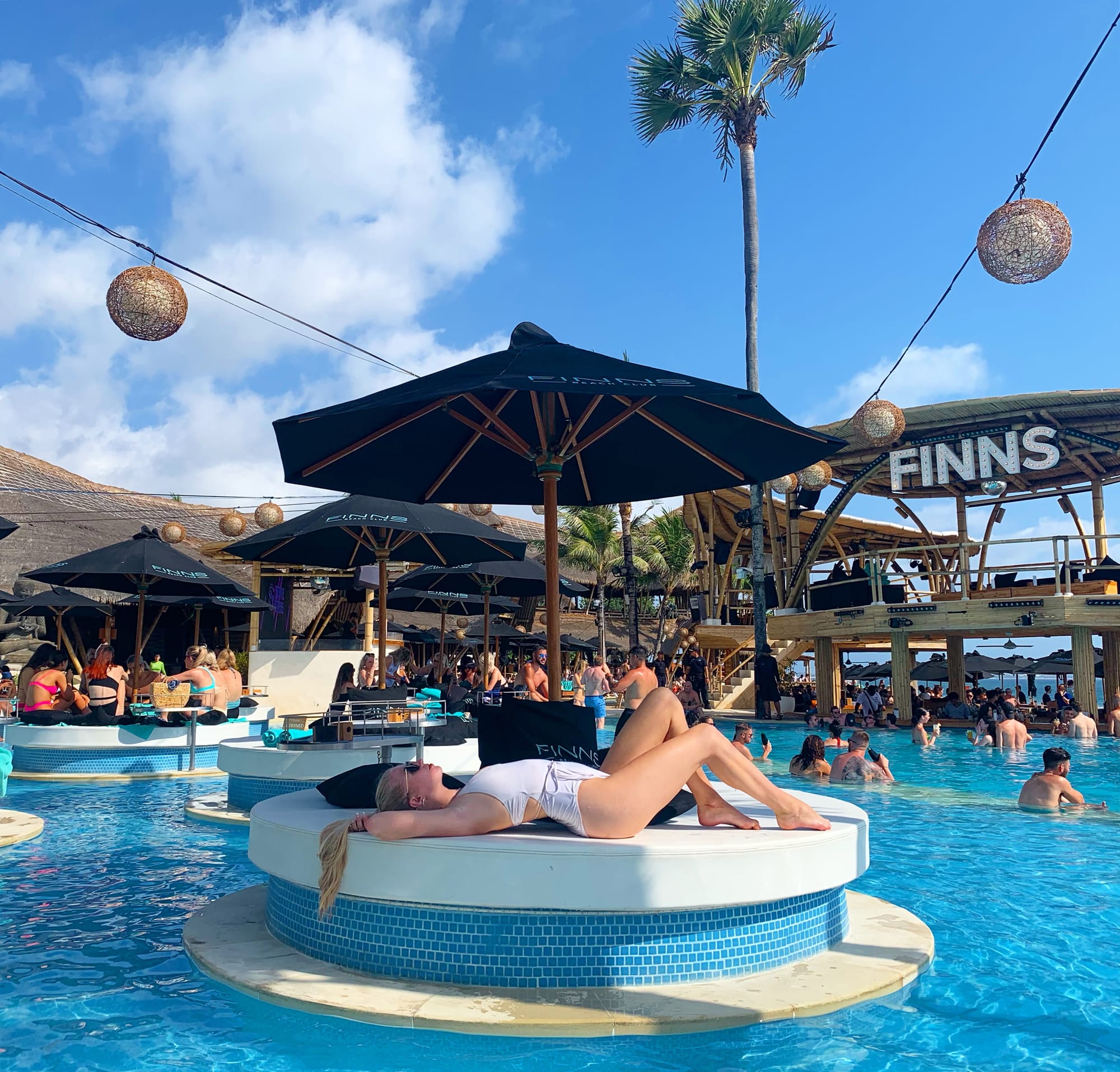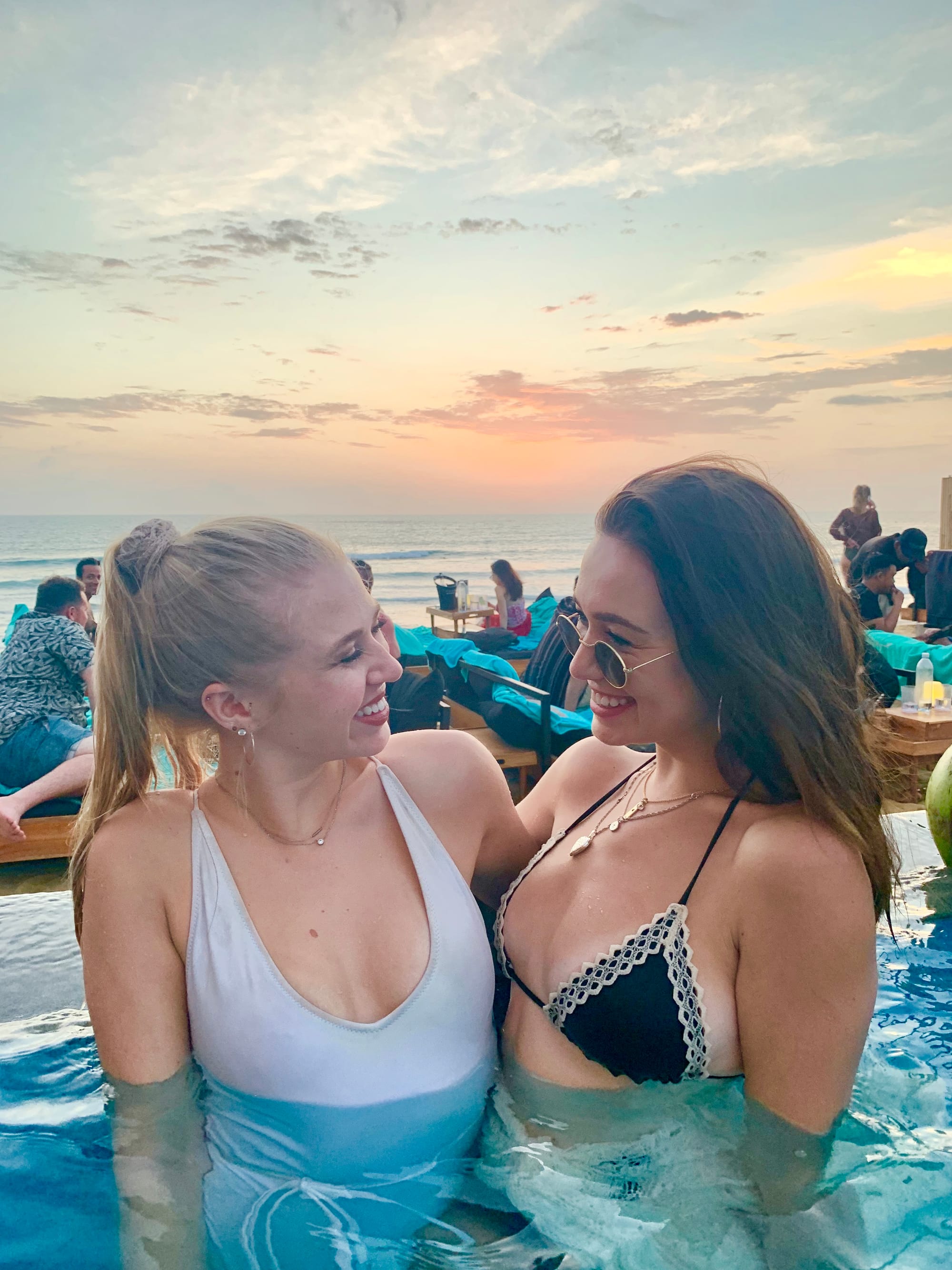 FINNSMake sure you're there for sunset! It will be sure to take your breath away.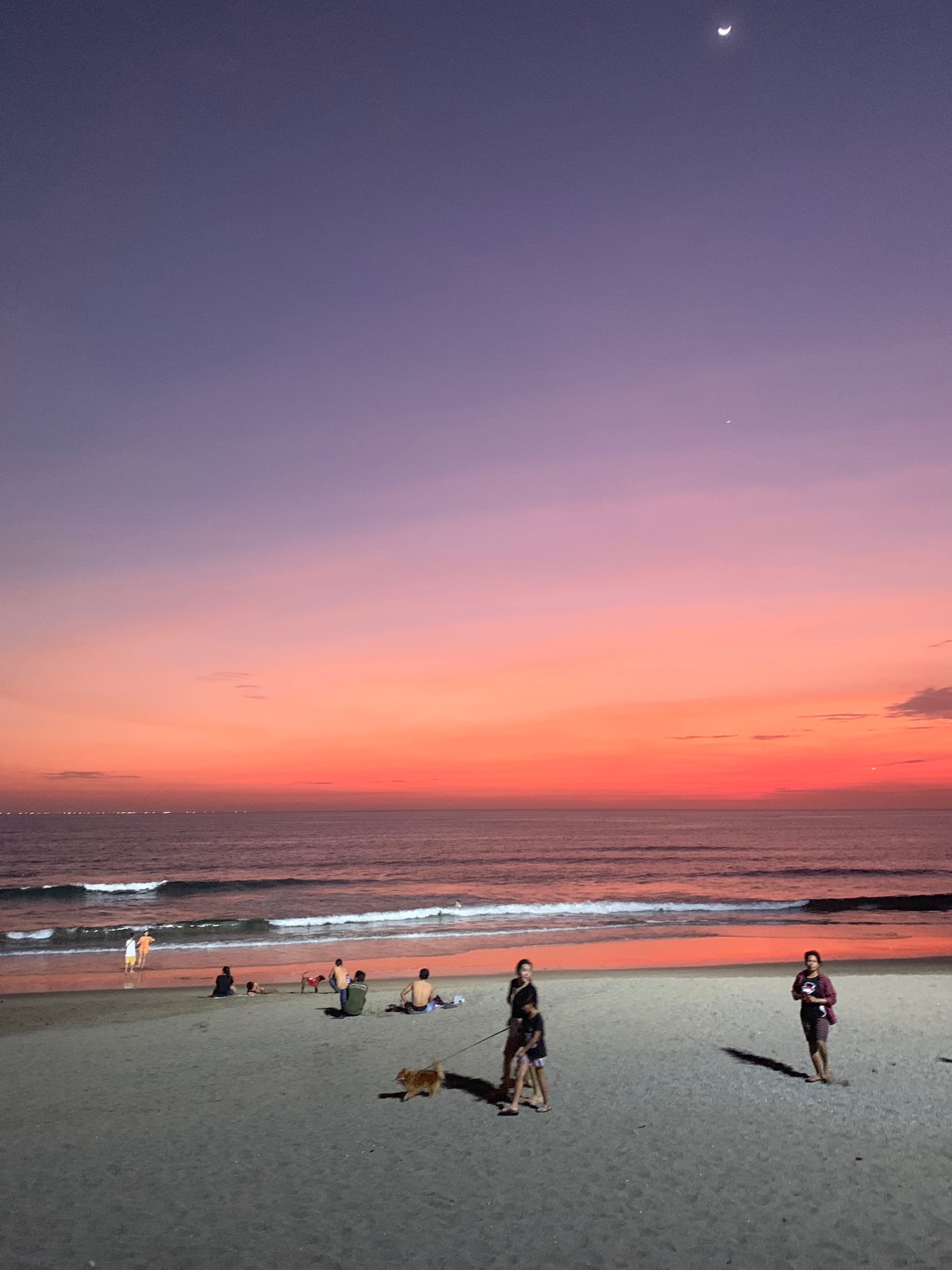 No filter needed.
After Changgu I headed to Ubud to detox a little. I highly recommend- it is insanely beautiful and in the middle of a forest.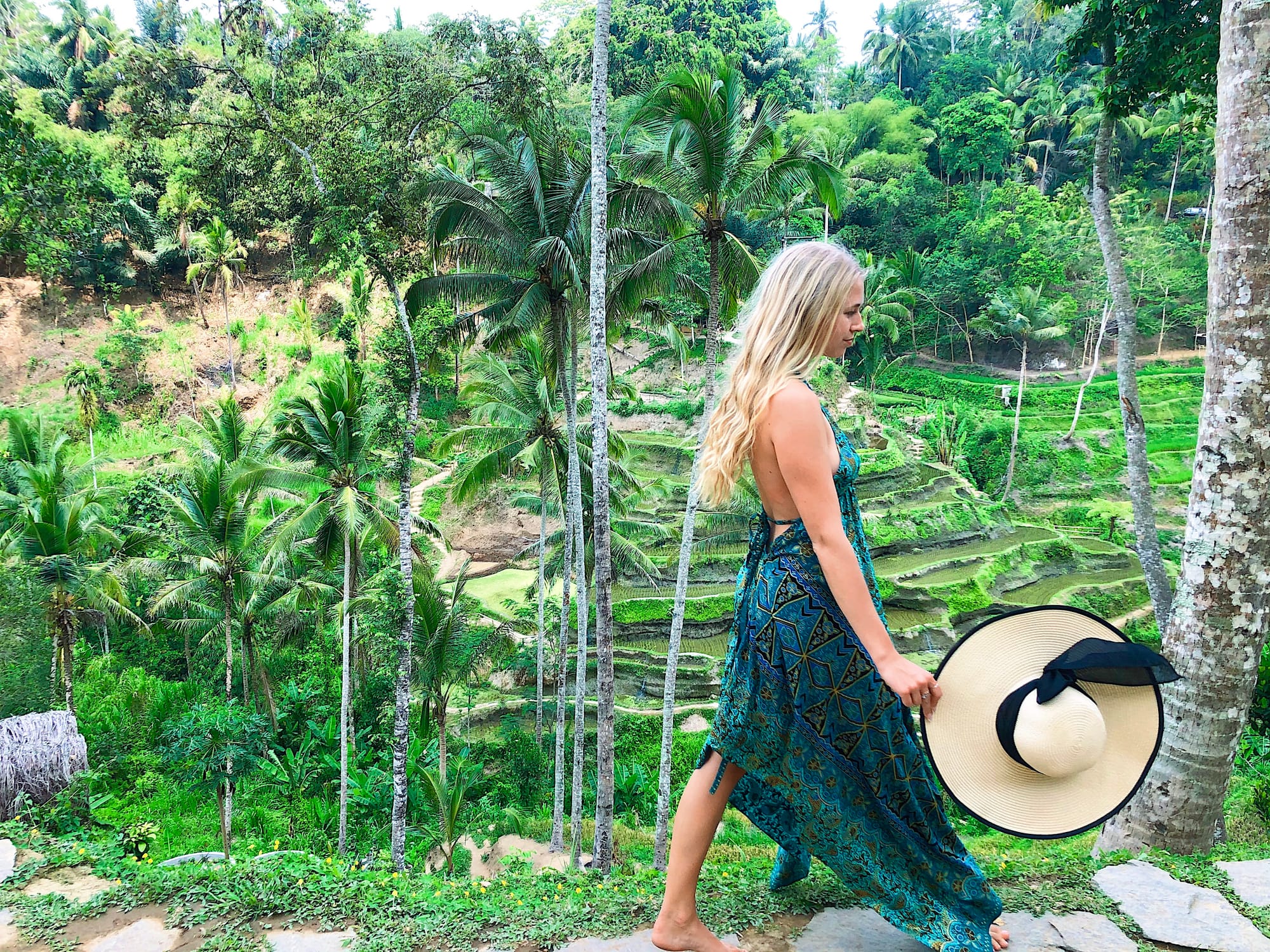 The Tegallalang Rice Terrance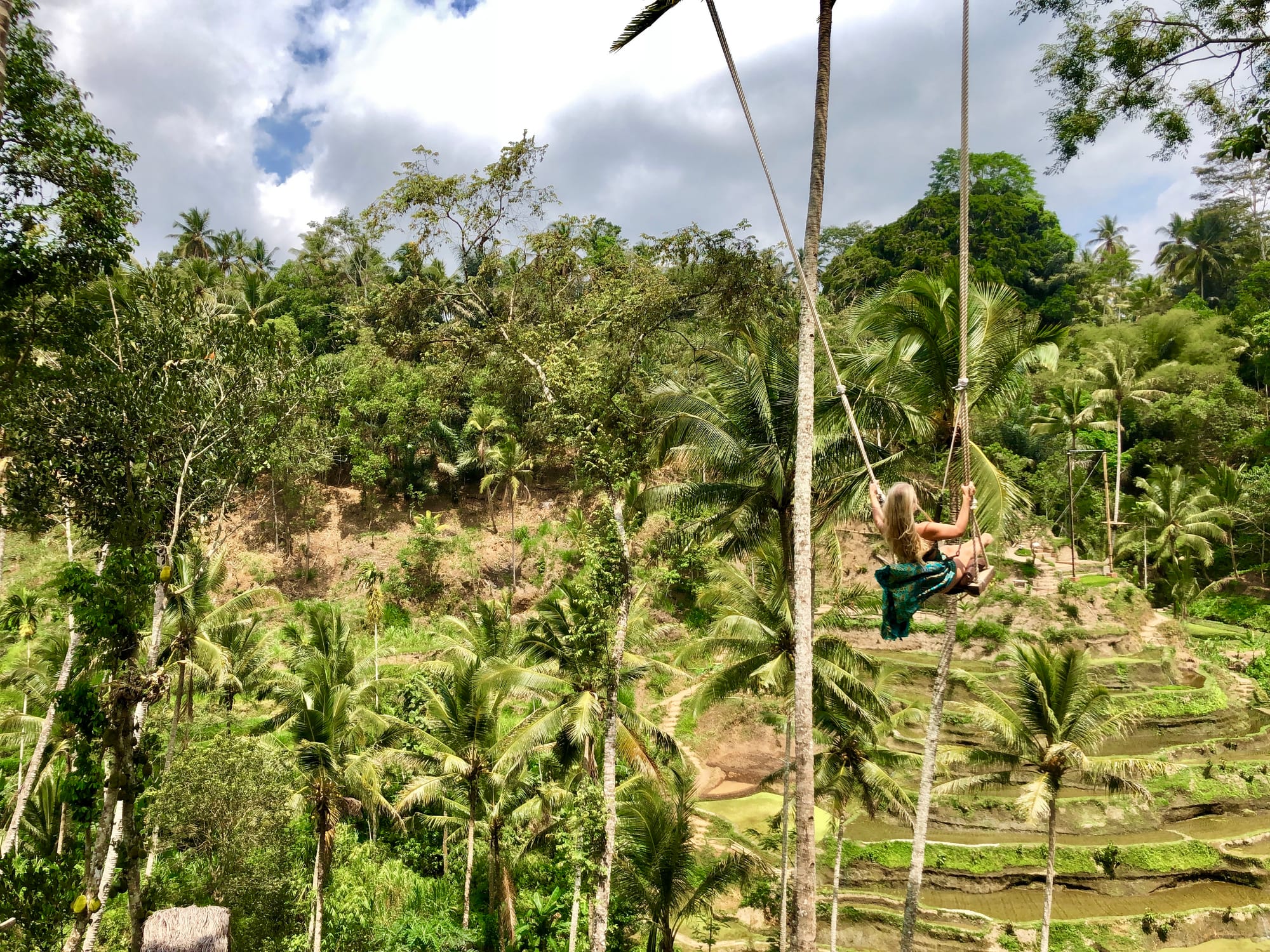 Post detox, take the ferry over to Gili Trawangan. I paid 250,000IDR (about $25 Canadian) for the taxi+boat. I booked through my hostel (Pillow Inn Ubud).
Oh Gili T. What a time you were. If you're really looking to let loose, I highly recommend taking the journey there. I stayed in the Gili Mansion which was awesome! 10/10 recommend, it has a great atmosphere. Every day it has combined events with its sister hostel, Gili Castle.
I highly recommend staying at one of the two and going on their boat trip. It was 250,000IDR ($25 CND) but wellllll worth the money.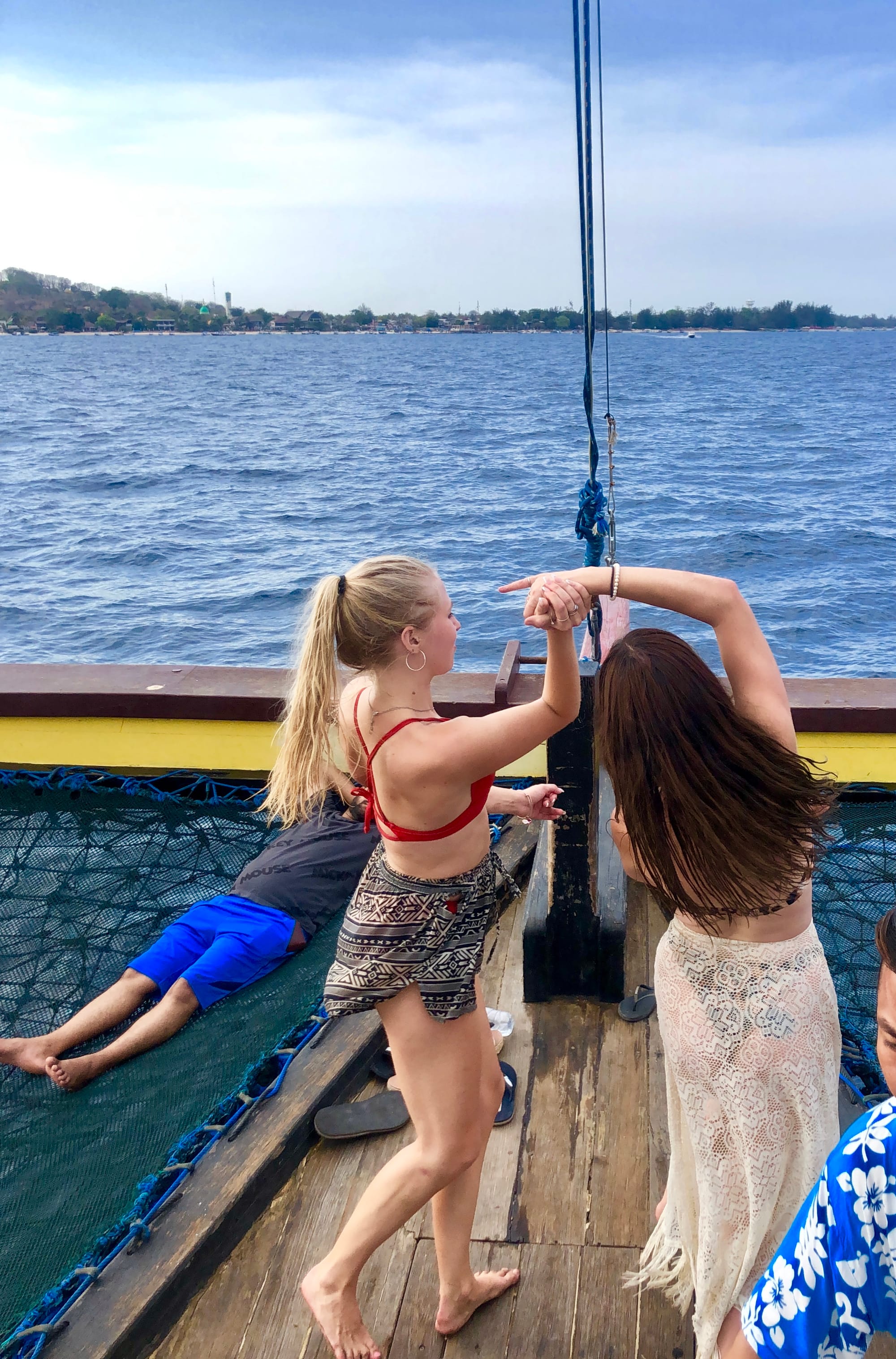 Me and my travel buddy + business partner Tyne doing our super secret handshake
This was probably one of my favourite days in Bali. Nice cold Bintangs on a boat on the ocean under the sun? Name a better combo, I'll wait.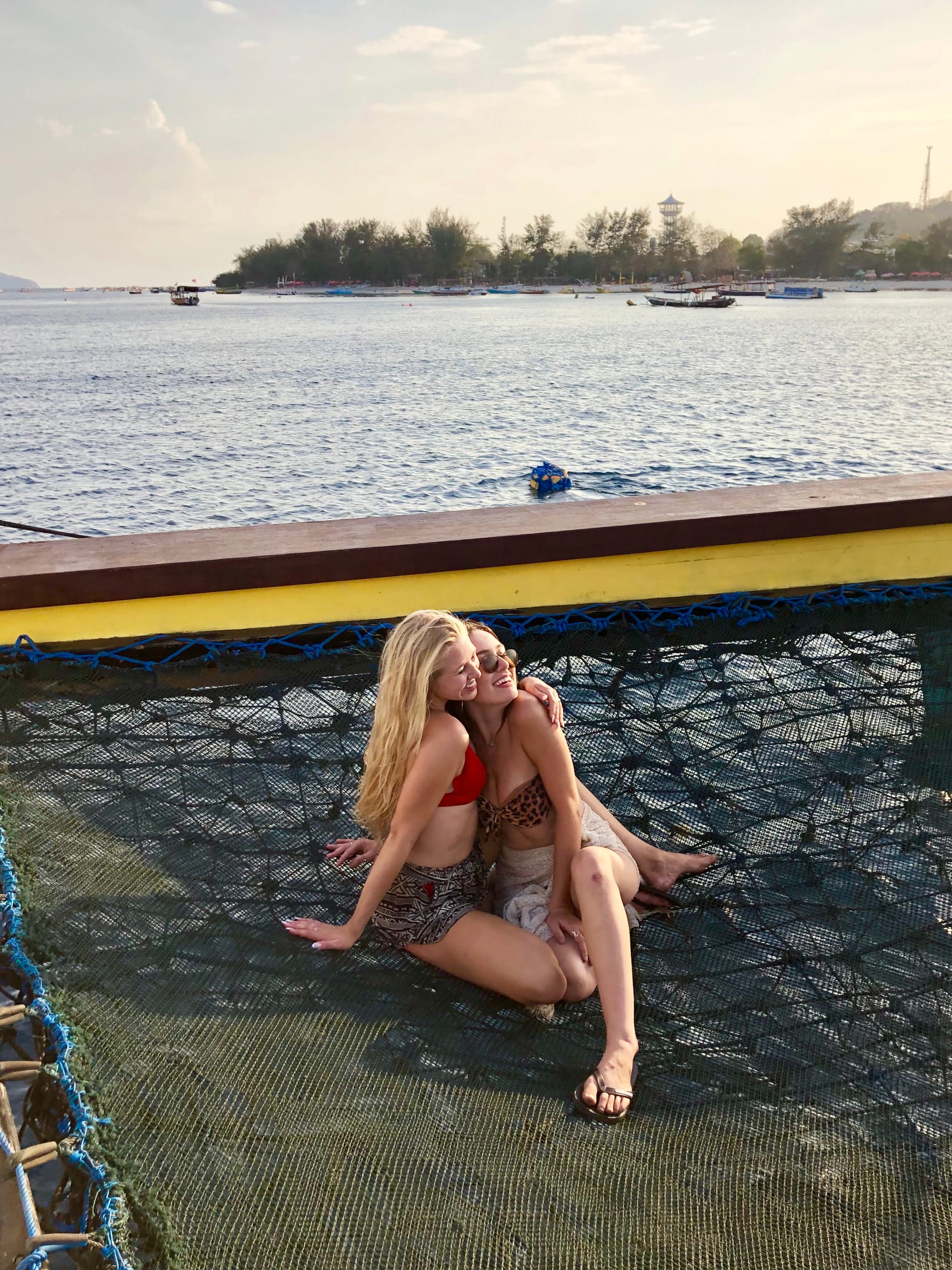 I also recommend the snorkelling. I snorkelled with wild sea turtles and it was one of the best experiences of my whole entire life.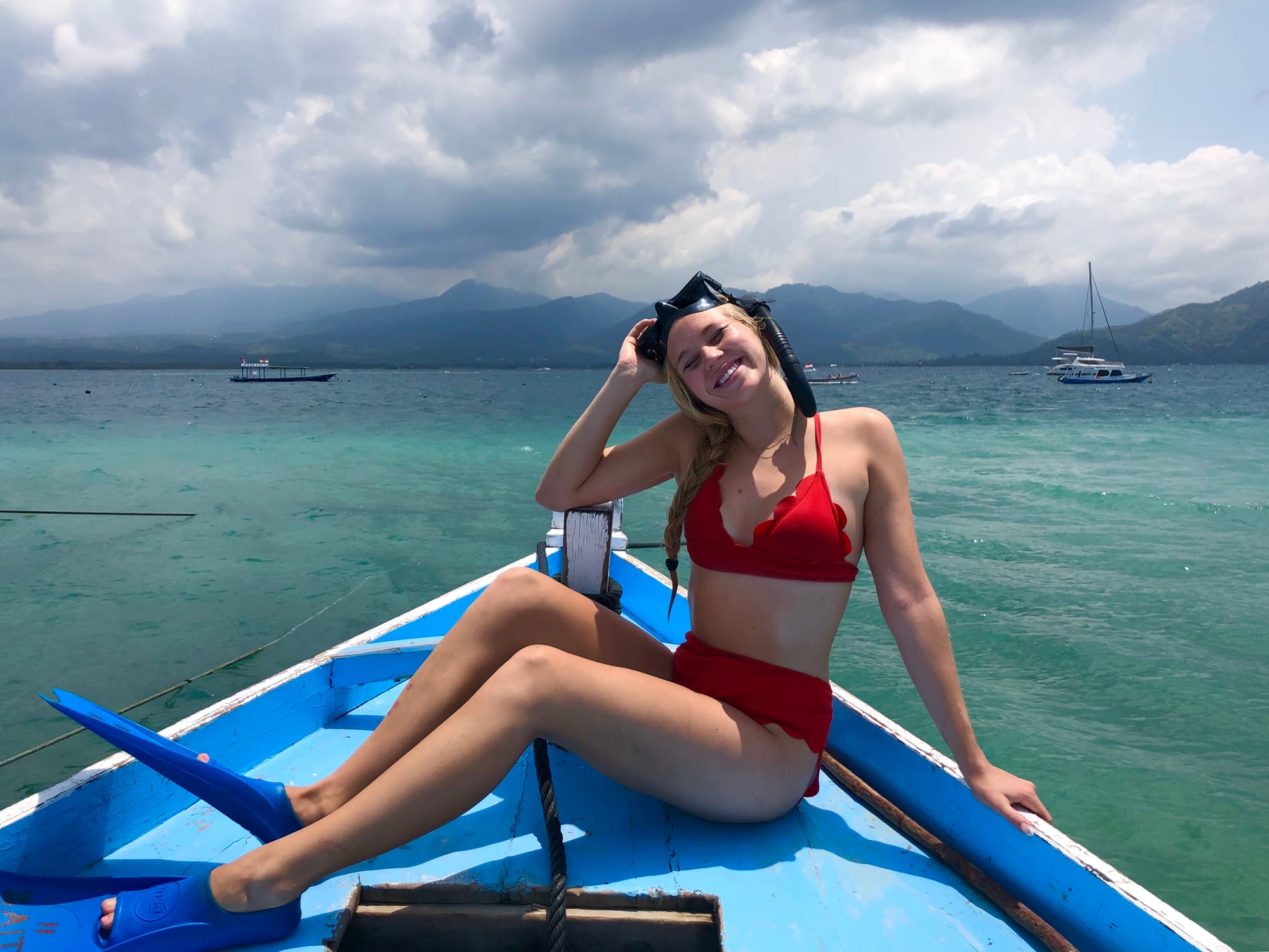 When you go out at night around 10/11pm, head to Jungle! It was my all time favourite bar on the island, I actually got offered a job there (but my liver could not handle it).
What's cool about the island is after a certain time all the bars and clubs shut down except for one, so everyone going out ends up at the same place! The bar that stays open changes depending on the evening.
Okay, so you've been on Gili T for a bit and it's time to leave. Where to next? Check out Ulutwatu (especially if you're in to surfing). It is a little more chill and has a really awesome beach club called OMNIA. Their Sunday Sessions are legendary.
So now it is almost time to leave Bali. But not quite yet. If you are flying out of Denpasar, make your last stop Kuta! Kuta is a big city equipped with a mall, night markets and lots of restaurants and bars.
I met a couple of cool DJs during my Bali travels that played at Engine Room Discotheque. I went to watch their sets and was not disappointed with the huge club. It has different floors and different types of music! I definitely recommend (when I went it was a much younger demographic, but if you're just there to dance who cares).
So there you go, my favourite places to bust it down in Bali.
Lemme break it down for you:
Best Beach Bars:
~ FINNS VIP Beach Club (Changgu)
~ Potato Head (Changgu)
~ OMNIA (Uluwatu)
~ Tropicola (Seminyak)
Best Clubs:
~ La Favela (Seminyak)
~ Los Gringos Mexican Tequileria (Seminyak)
~ Jungle (Gili T)
~ Boat Cruise (Gili T)
~ Engine Room Discotheque (Kuta)
You're going to have an incredible time! Be safe + happy travels!
xx Ellis